Serving Greater Chicago, IL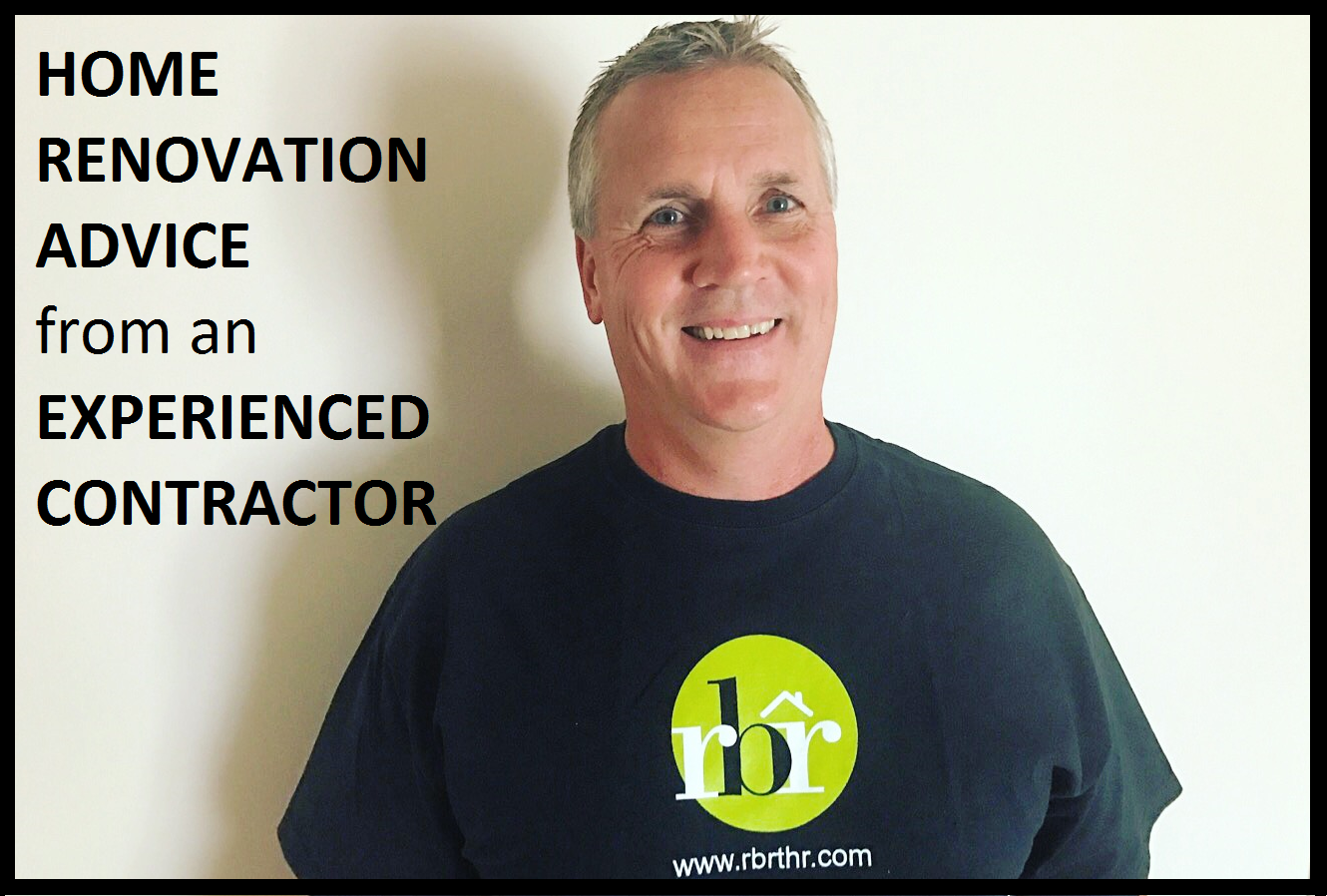 Home Renovation Advice from an Experienced Contractor–
Tom Scanlon, President and owner of RBR Total Home Remodeling, has been in the home renovation business for over 35 years. His hard-earned experience and dedication to his craft as a contractor have not gone unnoticed. Under his leadership, RBR Total Home Remodeling was the first local contractor to be picked for the Chicago run of HGTV/DIY Network's Kitchen Crashers* series. Scanlon and his RBR Total Home Remodeling team are also the preferred Chicago contractor for Disney, ESPN Radio, WLS Radio, and ABC 7.
In the past 35+ years, Scanlon has overseen countless renovation projects and has become a seasoned veteran in the industry. I recently had the opportunity to sit down with the contractor and he shared some insider knowledge and expert home-renovation advice with me. The following Q&A session is inclusive of that renovation advice:
Question: How long have you been working in this industry?
Answer: I've been in the remodeling business for over 35 years now. I started right after high school in the flooring business and things just progressed from there. When I was 22, some friends of mine opened up a remodeling business of their own and I ended up joining them. And I've been in the business ever since.
Q: What's something customers are typically surprised to learn when taking on a renovation project?
A: Customers are definitely surprised to learn about the amount of involvement that they actually need to have for the duration the project. Even with the best contractors, homeowners have to be involved from start to finish. People think that they can hire a contractor and then they can just disappear and things magically will get done. The best results happen when the homeowners are constantly involved and are willing to collaborate with the contractor.
Q: What are the most common renovation mistakes you see?
A: I go into a lot of job sites and see materials that haven't been installed properly. This normally stems from either a DIY project or the work of or sub-par, typically cheaper contractor. When you hire cheap people, you get cheap work. I also see a lot of people that have started the project in the wrong order. Every project has an order that things should be done in. I see lots of projects where things are being done totally backwards or out of order, and the results are both bad and expensive to fix. Following the correct process, step by step, is key.
The biggest mistake I often see, though, is when people try to finish painting by themselves. Always hire a professional painter. A beautiful remodeling job can be totally ruined with a bad paint job. It is absolutely worth spending the money to hire professional painters.
Q: How do you correct these mistakes when you encounter them?
A: Unfortunately, in most cases, the only way to correct these mistakes is to rip everything out and start all over. Renovations need to be done properly, step by step, from start to finish. You can't build on top of shotty work and expect things to last. It may look nice now, but functionality might lacking, or things could start falling apart quickly.
Q: What renovation advice would you give to someone looking to take on a small, DIY project?
A: Do as much research as you can before you start. Some people are extremely handy and don't need a bunch of help, but if you do, YouTube videos and tutorials are a great resource. That's for simple jobs, though. Stay away from DIY plumbing, electric, and carpentry. There are professionals and specialists in these fields for a reason, so leave the toughest jobs to the experts.
Q: What renovation advice would you give to someone looking to take on a large renovation project that requires a professional?
A: Again, do as much research as you can initially. Make sure that you have all the information ready about exactly what you want done in this renovation. If your project requires blueprints, meet with an architect before you meet with a contractor.
Hiring a contractor is like hiring an employee. Conduct some interviews first, ask for referrals, research some work that he or she has previously done, and ask for examples. A key question to ask is, "If there was a problem on any of your job sites, how was it handled?" All projects are bound to have a few bumps in the road, so knowing how your contractor handles those curve balls is key to ensuring your confidence and comfort with the project.
As a homeowner, ask yourself, "Do I feel like I'm collaborating with the contractor on the job, or is everything his call and then he just moves on to his next project?" Working together in confidence will ensure that you have the best possible results.
Q: What's your favorite part of your job?
A: When we finish the project, when it's really, finally done, and I see how happy my customers are. I've had people cry because they're so happy that I made their dreams come true, and that's the best, most rewarding feeling. Knowing that I delivered someone's dream to them makes all the stress and constant running around worth it. I take a lot of pride in the work I do, and so I'm very happy when I make my customers happy.
Q: Any last pieces of renovation advice or final thoughts you'd like to share?
A: When taking on a remodel, prepare to be inconvenienced. When you're remodeling a house, be prepared that you will run into problems and you may have to adjust your original plans. Be willing to be flexible. Even when you're dealing with the best people in the world, remodeling projects can get stressful. Have patience. If you're working with good people, there is always a solution to any problem.
______________________________________________________
Home Renovation Trends to Watch in 2017
Looking to remodel or update your home this year, but not sure where to start? You're not alone. Whether you're looking to totally gut and overhaul your kitchen or simply update some of your dated fixtures, it helps to have some inspiration. We've compiled a list of renovation trends we've seen so far this year, along with a few, industry-wide renovation trends to help get your brainstorm started.
1. Heated Bathroom Floors
Thinking of installing new flooring in your bathroom? You may want to consider going with heated bathroom floors. This small touch can take your home bathroom from lackluster to luxurious. Of all the renovation trends we've seen recently, this one is definitely the hottest.
2. Curbless Showers
Another recent trend we've seen is also happening in the bathroom. Many homeowners are choosing to make their showers curbless, and some are even choosing to forego shower doors all together. These easy-access, sleek designs are one showstopping way to modernize your bathroom.
3. Maximizing Storage Space
This year, the "tiny home" has grown increasingly trendy. Though most homeowners are not choosing to downsize so drastically, they are looking to maximize storage in their own tight spaces. This includes custom kitchen and bath cabinetry, custom, built-in closet organizers, and adding functionality to the area under the stairs, ideally leaving little-to-no wasted space.
4. High-End Laundry Rooms
Nobody likes a dark and dingy laundry room. Homeowners are starting to see the value in investing more into their laundry spaces. Laundry-room redesigns can help maximize space and functionality. Whether you're remodeling for resale or seeking to upgrade your space for yourself, a sleek laundry room definitely adds value to your home.
5. Splurging on Entryways
The industry as a whole has seen a recent increase in spend on entryways and mudrooms in homes. According to both Forbes and the 2016 Houzz & Home Report, "homeowners will spend on average $2,500 to make over their entryway or mudroom that's 150 square feet or more ($1,400 for a space that's less than 150 square feet)." First impressions count!
For more recent renovation trends and inspirations, check out Forbes' list of "Top 10 Home Design Trends To Expect In 2017."
Home Renovations That Pay Off, and a Few That Don't
Often times, when homeowners consider making updates to their homes, they do not necessarily consider how the updates will impact their homes' resale value down the line. While most home renovations are likely to increase the value of your home, certain remodeling projects will give you a greater return on investment. One the other side of the coin, some home renovations can fall flat in helping you generate a healthy return on your investment.
According to a Remodeling Magazine survey of real estate professionals, "The average renovation pays back about 65 percent of its cost if you sell your house soon after the remodel is completed." Although, US News notes that "the amount of payback varies widely, depending on the type of improvement." The following are a few tips from us and US News on home renovations to help you get the most bang for your buck.
1. Upgrade your Kitchen
Time and time again, we have seen that in the realm of home renovations, the kitchen is king. As US News notes, "Modern families spend most of their time in the kitchen, and so an investment to improve the look and functionality of this popular room is typically a good one." If you are willing to take on a project as big as a kitchen remodel, you will likely see a great return on your investment.
2. Use Quality Materials
Whether you're choosing countertops for your kitchen remodel or tile for a bathroom upgrade, always use quality materials. While cheap materials might seem cost effective at the time, they will rarely improve your resale value. On the other hand, you should be conscious that you may not generate your desired return on investment when choosing top-of-the-line finishes. Depending on your neighborhood and the average buyer in your area, people may not be willing to pay a premium price for the highest quality materials. When it comes to selecting building materials and finishes, find a quality happy medium.
3. First Impressions Count
It's hard not to judge a book by its cover, so make a good first impression on a potential home buyer. We suggest upgrading old siding, replacing dated windows, and repairing tattered roofs. Even a something as simple as updating and replacing your front door can make an impact.
4. More Space Doesn't Always Mean More Money
Home additions are typically some of the most expensive renovation projects to take on, and because they can be high in cost, they have the potential to fall flat in generating a great return on your investment. As US News notes, "Lower-cost improvements typically offer better payback than major renovations."
At the end of the day, you are the homeowner and are likely choosing how to renovate your home based on your current needs. However, whether it be upgrading fixtures in a dated bathroom, replacing old windows, or taking on a total kitchen redesign, you should consider how your home renovations will impact your home's future resale value.
For more helpful remodeling tips, the full Money.US News article can be found here.
How to Choose the Right Contractor
We've all heard the horror stories about an under-qualified contractor botching a renovation. A homeowner trusted the contractor enough to hire him initially, but the job was not completed as expected or promised. So how can you avoid this? How can you be certain that the contractor you choose is right for the job? We've compiled some tips to help you make a smart and informed renovation decision.
The most important thing is doing your research.
In order to choose the right contractor, you need to be informed. We suggest interviewing a contractor first, and asking him or her for references. People who have hired this person and his or her company can have great insight into what it's like to work with him or her on such an important project. We also recommend reading company reviews online. Sites such as Angie's List and Home Adviser confirm that each review is written by a legitimate customer, making them a relatively trustworthy resource.
You should also consider asking family members, friends, or neighbors for a recommendation. If someone you know has completed a renovation and refers the contractor he or she used, it is likely a good sign.
If you're interested in hearing more advice, Angie's List creator Angie Hicks sat down with Teresa Mears of U.S. News and shared her tips for how to choose the right contractor. With years of experience, Hicks has many great insights to share. The list is full of tips to help you find the best contractor for the job can be found here.
Ultimately, the more informed you are about the contractor and the remodeling business itself, the easier it will be to make the right choice. When you do your research initially, you're much more likely to have a smooth and successful renovation.
---
Home Improvement Tips to Help You Increase Your Home's Value
In today's housing market, most homeowners are looking to increase their home's value. Yet, many homeowners don't realize that value can be added at any budget. While investing in larger home improvement projects–such as a bathroom remodel–can generate a greater ROI (return on investment), something as simple as painting can still add value to your home. So don't let your budget hold you back. Home improvement is possible at any price.
If you are like most homeowners, purchasing a home is one the greatest investments you will ever make. And increasing your home's value means taking care of that investment. For under $100, the experts at DIY Network suggest hiring an "inspector to check out the areas of your home that you don't normally see," saying, "you can't fix it if you don't know it's broken."
It's also important to remember that first impressions count. If you're looking to sell, the DIY Network professionals recommend spending a few hundred dollars to "hire a lawn service company to trim your lawn and shape your hedges." A well-manicured lawn will instantly improve your curb appeal.
When choosing which home improvement project to take on, "kitchen or bath remodels are always a safe bet." From fixture updates to appliance upgrades to total overhauls, everything makes a difference. If you have the funds, consider a total kitchen remodel. A kitchen remodel can greatly increase a home's value. According to DIY Network, "most experts agree that if you plan on updating only one room in your home, it should be the kitchen." While kitchen remodels can be quite costly, they typically generate one of the largest ROIs.
So don't be afraid to take on a home improvement project. Find a project in your price range and start increasing your home's value. Remember, you can improve your home's value at any budget–you just have to be smart. The professionals at the DIY Network have compiled "30 Tips for Increasing Your Home's Value," designed to help you make the most of your greatest investment: your home.
The list is full of cost-effective, home improvement suggestions and can be found here.
---
The Best Time of Year for Remodeling Projects
In general, the best time to start a renovation is when you are financially and mentally prepared to take on such a large project. But the best time of year to complete remodeling projects can vary. "Some times are better than others for different phases of jobs, as well as for cost-savings — although the two don't necessarily coincide," says Rick Thomas of Thomas Custom Builders. Weather conditions and changes in season can limit the work that can be done to your home during certain months. However, it is usually during the months with more rain and snowfall that contractors have more availability.
While taking on remodeling projects during the winter can seem undesirable, Thomas says that, "Frozen ground and dry air are better for digging foundations and pouring concrete footers than muddy ground and humidity." So, if you are considering an addition, the winter months are ideal. But, you need to remember to plan a job this big far in advance. Thomas warns, "Don't decide in January to put an addition on your home and expect a contractor to dig the foundation in February."
Spring is typically the busiest time of year for contractors. It's also "probably when you'll pay the most money for their time and for materials," according to Thomas. Despite the summer heat, July through September is actually a good time to take on a roofing project. Thomas also recommends "tackling indoor work like kitchen or bathroom remodeling" during the summer months. He points out that "the last thing you want to do in the sweltering heat is an attic bedroom!"
If you're considering a renovation or remodeling project before the holiday season, you need to start the process now. Thomas says, "If you're willing to have crews in your home during the holiday season, [October through December] is a good time to schedule anything from an addition to a kitchen remodel." However, this is usually this time of year that homeowners want to complete their remodeling projects rather than start them.
This holiday season, celebrate with family and friends in style and comfort. Remember that planning ahead ensures less frustration and anxiety for the entire family. Just make sure you are financially and mentally prepared for a renovation before you start one.
The full article from Angie's List, along with Thomas' advice, is available here.
---
Common Home Renovation Mistakes You Need to Avoid
From buying cheap materials to over-building for their neighborhood, homeowners often make the same, avoidable renovation mistakes. To help prevent you from doing the same, our expert friends at HGTV have made a list of the "Top 25 Biggest Renovating Mistakes" homeowners typically make.
To ensure the best possible results, every project must start with a plan. Careful thought and consideration should go into every last project detail. One of the biggest renovation mistakes homeowners make is skipping the prep work. The experts at HGTV say, "You shouldn't avoid your prep work. You want to take the time to do it right and right from the beginning," as it will save you time and money down the line. When you cut corners with your prep work, it can lead to bigger renovation mistakes like incorrect measurements and unnecessarily torn-down walls.
It is also important to consider the impact of going too trendy in your design. The HGTV experts point out that when people want to be trendy, "they don't take into consideration is that trendy means that it's short term." Going too trendy could lessen your resale value down the road. Remember, design elements can make a big difference.
Also on the list of renovation mistakes is "Building a Small Bathroom." The experts suggest not building one in the first place, but offer a few tips if you decide to anyway. They suggest you avoid putting "full-size fixtures in a tiny, tiny bathroom," saying, "It's just going to be crowded."
So before you start a renovation, do your homework. Choose the right contractor and do some research on them. Learn from other people's mistakes and be smart in your own renovation project.
The full list of common renovation mistakes is available here.
---
Cheap vs. Steep: Choosing the Right Countertops
When remodeling your kitchen or bathroom, your choice of countertops can enhance both the design and durability of the room. Typically the difference in cost of countertops stems from the quality of the material you choose. But before you install new countertops, make sure you know what your money is getting you. While granite and marble countertops are more expensive, they are far more durable than laminate. Choosing a higher quality material is an investment that could save you money down the line AND improve your resale value.
However, that does not necessarily mean that a less expensive option won't look nice or suit your needs and lifestyle. Many homeowners rarely cook and look at upgrading their kitchen countertops as a cosmetic fix rather than a functional one. The experts at HGTV say that, "Whether your remodeling budget is $1,000 or $100,000, there's a kitchen countertop that fits your price range." If you can afford $100,000 marble countertops, they are definitely a great choice. But if you're like most homeowners on a tighter budget, there are plenty of beautiful, quality options at a more modest price.
Our friends at HGTV have compiled a list of countertop materials to help you choose the best product for your project and budget. The full article and materials list is available here.
Do some research and be a smart homeowner. Know what your home value can support. Will you get your desired ROI if you choose the more expensive option? Pick the right countertop material for your space and only splurge when necessary. Just because you can afford the most expensive material doesn't mean it's the best option for your space. Beauty can still be achieved on a budget.
---
Renovation Project Ideas Designed to Increase Your Home's Value
Realtors and remodeling experts often debate where certain home-improvement investments rank in helping increase a home's value the most. Every renovation project has the potential to increase your home's value, but the majority of experts and homeowners agree that the "kitchen is king." But what about other improvement investments? Investing in a smart renovation project can greatly increase your home's value, no matter what the size the project is. So before you rule out a home improvement project because of cost, consider taking on something smaller.
Before starting a renovation, it is important to consider what you can financially afford. A larger, more expensive renovation project typically generates a greater ROI. Yet, when they are done right, smaller home-improvement projects can still make an impact. Installing new fixtures in your bathroom is a quick, inexpensive fix that can significantly upgrade a space. Even something as simple as a fresh coat of paint can brighten and update a room.
Our expert friends at the DIY Network have compiled an insightful list of "10 Investments to Boost Your Home's Value," designed to help you make an intelligent and informed renovation decision. From painting to plumbing updates to finishing a basement, each home renovation project can upgrade your space and boost your home's value. Remember, even if your budget is small, a smart home-improvement investment has the potential to make an impact and increase your home's overall value.
The full list of suggestions and expert advice is available here.
---
Remodeling a Kitchen for Resale Can Increase Your Resale Value
The real estate market is hot right now, and remodeling your kitchen before you sell can greatly increase your resale value. You should ideally earn 70% of your renovation investment back when you sell your home, pending which products or finishes you choose. When updating a kitchen, it's important to remember to choose materials and styles that appeal to the masses rather than simply catering to your personal taste.
Our friends at HGTV have compiled an insightful list of "six tips on turning your kitchen into buyer bait," designed to help you increase your ROI. A kitchen can make or break the sale of a house, so if you're looking to remodel for resale, listen to the HGTV professionals' advice. They say, "The biggest mistake homeowners make is spending more on the remodeling project than their home value can support." So do some research. Invest your money wisely. Be smart in your renovation decisions and maximize your ROI.
For more tips, read the full article here.
From a Nightmare to A Dream with RBR!
Writing a review is simply not enough for what RBR did for me and my disabled father. They are simply the BEST!!! Back in December 2016, I was left with a horrible non-functional kitchen remodel, failed electrical work, garbage all over my home, etc. due to another contractor. RBR made right everything that another remodeler did wrong and they quickly. They not only exceeded my expectations, but surpassed them! RBR's team is professional, dedicated, respectful, honest, fair and caring. Frank Folisi is a promise keeper. He keeps his word and gets the job done. He goes above and beyond to make sure you are satisfied with the job. RBR's contractor Sebastian is astounding in his work ethic, quality of work and professionalism. I am amazed at the work he did in my home. He was always considerate, on time and left my home each day in broom clean condition. Sebastian excels at remodeling. Lee Ann, RBRs coordinator is friendly, respectful and warm. She makes sure everything is working smoothly and is a pleasure to work with. I walk into my home now and see how beautiful it is and I am so very happy that I chose RBR to do my remodeling! I can never thank RBR enough for what they did and I will never forget them. They gave me back my faith in contractors. It is rare to find a company like RBR who takes responsibility for their work, treats you and your home with respect and delivers what they promise.
Outstanding experience
We had a great experience with RBR from start to finish. All of our concerns were addressed immediately and with great efficiency. Our bathrooms look fabulous and all the work was done on the time schedule promised and all work spaces were left clean on a daily basis. All workers were friendly and very professional. We would definitely recommend RBR to others.
Two Bathroom Remodels
When I decided to remodel my main hall bath, I did my homework. First, I investigated remodeling companies on line and used Home Advisor and Angie's List for recommendations. I finally decided upon 3 companies to interview. After those interviews, my decision was easy: RBR was heads and shoulders above the others. Tom listened intently to my ideas and gave me solid advice about the remodeling, all the time keeping my budget in mind. His workers arrived on time, did the work professionally and expertly, and left the work space clean each day. What also impressed me was that Tom stopped by each day to inspect the work his men had done. I was so pleased with the outcome that I immediately hired RBR to remodel my master bath too! Once again, his crew did an excellent job. I particularly liked that Tom recommended a tile store, bathroom fixtures store, and stone fabricator for me to use, if I wanted. The people I worked with at these places were also more than willing to walk me through the process of choosing materials. And any time I had to call the office with questions, I spoke to Lee Ann, the delightful office manager. I initially began the remodeling process with great trepidation. But working with Tom, Lee Ann, and the crews at RBR took away any fear I had. I wholeheartedly recommend them to my family and friends and know that I will immediately call them for any of my remodeling needs.
Message Sent. Thank you for contacting us. We will be in touch with you shortly.
Send A New Message
Contact
RBR Total Home Remodeling
11 West College Drive
Suite M
Arlington Heights
,
IL
60004
Hours
Mon - Fri:

8:00am

-

5:00pm

Weekends:

By appointment